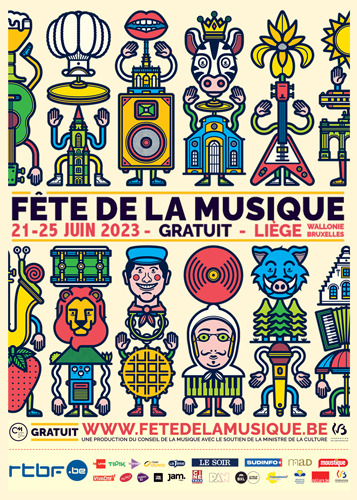 Date
Jun 21 2023
Expired!
Fête de la musique – Music festival
Cultureghem welcomes you Wednesday for La fête de la musique organized by Mona & d'incise in the magnificent abattoir hall in Anderlecht.
Concerts from 5pm to 10pm, accompanied by a delicious meal from Dreamkitchen from 6pm.
This event is open to all, so come and enjoy a wonderful summer evening.
ON THE PROGRAM ::: starting at 5pm
¹⁷ʰ ◢ _𝗟𝘂𝗰𝗶𝗲 𝗦𝗶𝗺𝗼𝗻𝗲
https://on.soundcloud.com/vyryZ
¹⁸ʰ ◢ _𝗖𝗮𝗻𝗰𝗲𝗹𝗹𝗹𝗲𝗱
https://soundcloud.com/cancelled404
¹⁹ʰ◢ _𝗬𝗭
https://yz-music.bandcamp.com/track/taba
²⁰ʰ◢ _𝗗𝗲𝗲𝗮𝘁 𝗣𝗮𝗹𝗮𝗰𝗲
http://manie-dansante.com/deeat-palace/
https://soundcloud.com/deeatpalace
²¹ʰ◢ _𝗨𝗻𝗹𝗶𝘀𝘁𝗲𝗱 𝗙𝗮𝗻𝗮𝘁𝗶𝗰
https://unlistedfanatic.bandcamp.com
With the support of Conseil de la Musique & Fédération Wallonie-Bruxelles